How to update EventON Addons
October 31, 2023
How to download updates from myeventon website
Go to my account downloads in your my eventon account and in there you should see latest versions of your purchased addons available for download.
1.0 How to install update from backend
Go to  wp-admin Plugins > Installed Plugins and deactivate the old version of the addon.
Now go to  Plugins > Add New > Upload Plugin and upload the downloaded addon zip file.
WordPress may ask to replace the existing old version with new version of the addon. if so click "Replace current with uploaded"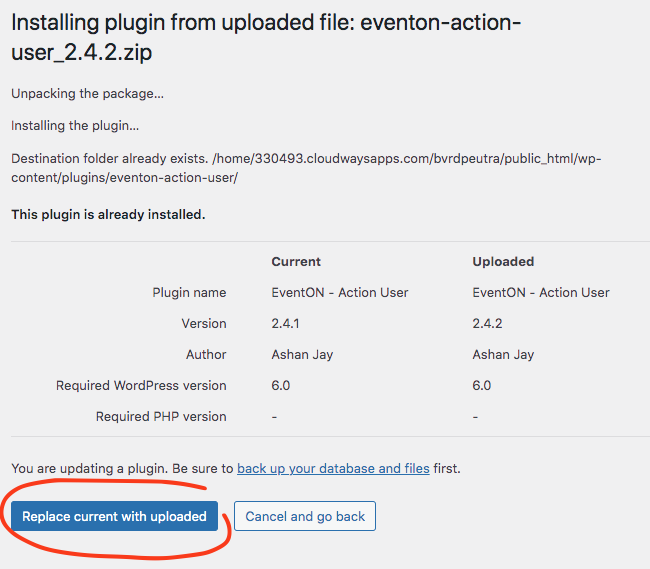 Once uploaded, activate the plugin within wordpress.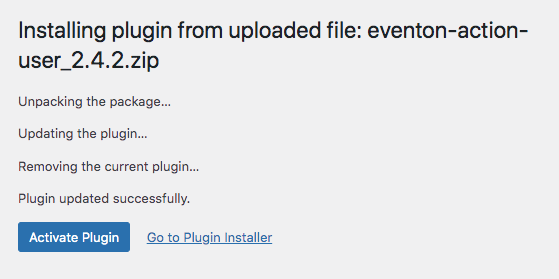 2.0 How to install new version of Addon files (Manually via FTP)
The best way to install updates for addons is via ftp. This way you will not need to deactivate or activate addon plugins.
Step 1: Backup your website and old version of the addon files
Step 2: Go into your FTP client and to wp-content/plugins folder and find the addon folder. Eg. ../wp-content/plugins/eventon-rsvp/
Step 3: Delete all the files inside this folder and replace with new files from the new version of the addon zip file.
Step 4: Go to wp-admin Plugins> Installed Plugins and make sure the update works.
The other method is to deactivate the addon from Plugins > Installed Plugins and delete the plugin and install new version and activate.
NOTE (warning):  you may lose all the settings stored under eventON for that specific addon with this method. 
If you are moving the addons to another website, first and foremost, be sure to deactivate your license on old website before deleting the plugin.
NOTE: You can also follow twitter hashtag #newEVOupdate to get addon and plugin updates real-time.
Did this article help you? If not, send us a ticket via helpdesk