How to setup Language Corresponding Events
July 31, 2019
Language corresponding events was a feature we have added since eventON version 2.5.4. This feature allow you to keep all your events (from multiple languages ) in one place and show only certain events from certain languages in a calendar.
IMPORTANT: When using language corresponding events, you must NOT use wpml shortcode parameters in the calendar shortcode.
Step 1. Enable corresponding events

From EventON settings > General you can enable language corresponding events.
Step 2: Create events for languages
Once enabled in settings go to each event edit page and you will see a new box as below.

This will allow you to select the corresponding language for the given event. Eg. if you create a new event called "Christmas Party" in english and your L1 is English you send L1 under here. Similarly you would select L2 etc. for other languages that you can decide on. These languages are not set, but rather differentiates based on the L1, L2 values. Therefore you can use these classifications for any language you want.
So in a similar way you would create a duplicate of the "Christmas Party" event and type in content in Japanese. And under Language for Event you would select L2 (As you classify L2 to be your Japanese while L1 is your English)
Step 3: Create Calendar
Using eventON shortcode generator you can select the Language Variation and generate a shortcode with lang="L2″ etc. This will create a calendar that will only show the events from that particular lang classification. (NOTE: lang variable in shortcode only does this when Language corresponding events enabled, otherwise it will show all the events)
Another great aspect of this is, when you use lang="L2″ etc in the shortcode it will also convert the rest of the calendar text content to corresponding language values set via eventon settings > language.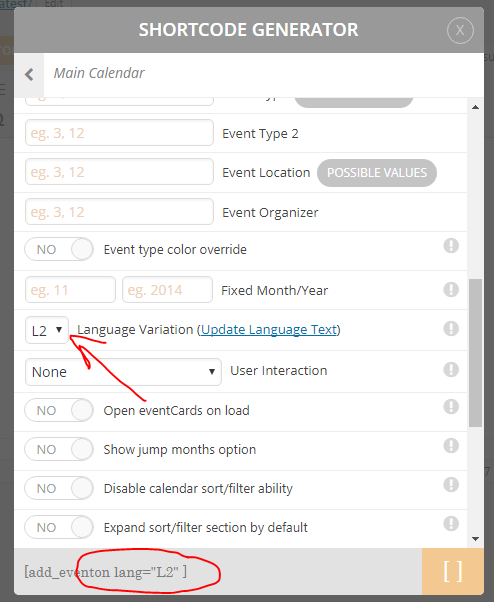 Did this article help you? If not, send us a ticket via helpdesk