How to find your EventON license key (Purchase key)
May 1, 2013
Below is how you can find the purchase key (license key) for eventON main plugin. Which is required for several things within out eco-system. EventON is sold exclusively via codecanyon, and a purchase key can only be granted by codecanyon.
Step 1:
Login to your https://codecanyon.net and go to Downloads
Step 2:
Find EventON – WordPress Event Calendar in your list of downloads on this page. And click on  Download button which will dropdown a submenu.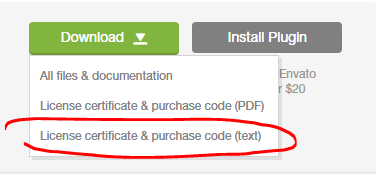 Select License certificate & purchase code this will download a text file which will have your Item Purchase Code
This is the purchase key (license key) you will need for eventON.
Did this article help you? If not, send us a ticket via helpdesk