How to get new auto updates for EventON
May 6, 2013
Automatic updates available from: version 2.1.6
Step 1: Activate your EventON License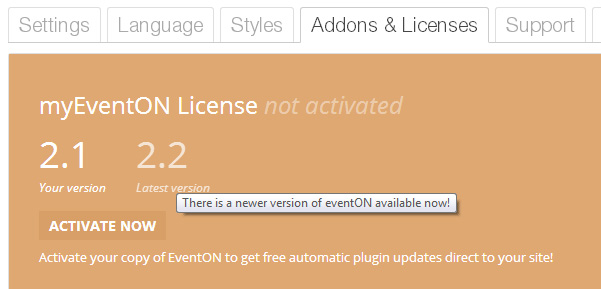 Go to myEventON settings > Addons & Licenses tab and click Activate Now.
Step 2: Activate license
Grab your license for EventON from envato by following this link:
Then, paste the license code in the pop-up activation box and click Activate Now. If there are any new updates for EventON it should show in this page.
Step 3: Check for updates if not shown automatically

WordPress – by default – check for updates to plugins and themes every 12 hours and update your site with notifications if new updates are available.
However you can manually check for updates without having to wait by going to Dashboard>Updates> Check Again
(NOTE: Sometimes it may take several checking and refreshing for WordPress to update the information if there is a new update available.
Step 4: Download new updates – if available

If there are new updates available you will be able to see them in Plugins>Installed Plugins page.
You can download the updates by clicking update now on plugins page.
Did this article help you? If not, send us a ticket via helpdesk