How To Install and Use the Event Photos Plus
September 22, 2023
Event Photos Plus is the add-on for you if you want to present event images in an enticing gallery placed right within the event Card. Images created using event photos can be viewed as a full-screen responsive lightbox gallery.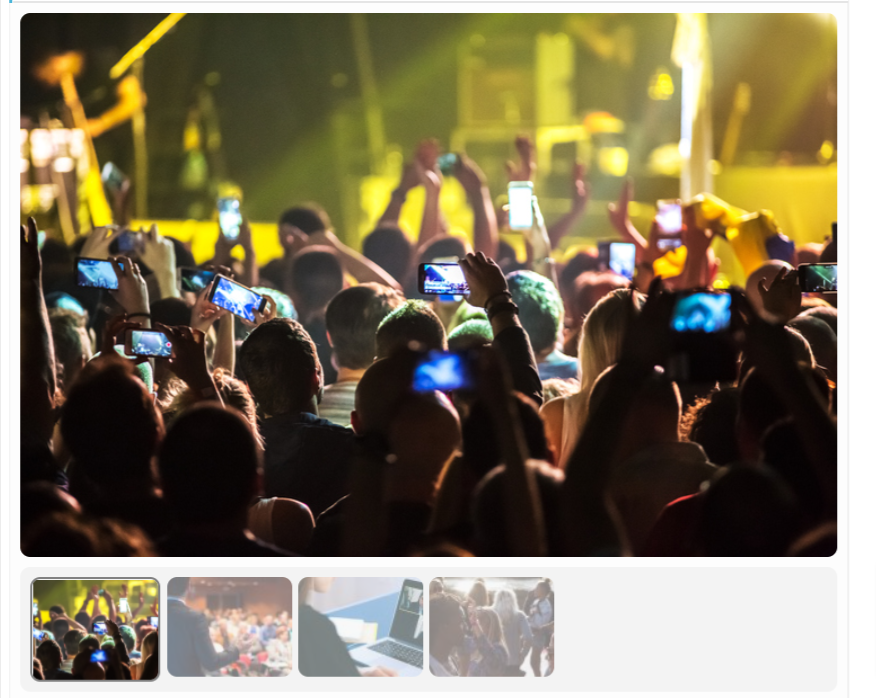 Event photos plus add-on has quite a number of features as discussed below:
Full-screen Responsive Lightbox allows the visitors to look at the gallery images up-close. 

Mobile optimized swipe, responsive lightbox gallery is optimized for mobile view, with an interactive swipe to navigate through the gallery and swipe up to close the gallery.

Theme choice, the event photos come with light or dark themes to match your website styles. 

Ease of image navigation, the add-on allows easy navigation between the images in the fullscreen lightbox gallery.

Multiple thumbnail sizes, this feature allows you to choose from the multiple thumbnail sizes to fit the gallery neatly on the event card.

Image gallery event card, with event photos plus you, can convert event images to be shown as separate image gallery in the event card.
To see event photos plus in action click on this link; https://addons.myeventon.com/event-with-photos-addon/.
Installation
Before getting started, be sure to install and update the EventOn plugin by downloading it from your Codecanyon account. You can follow our tutorial on how to install & activate EventOn on this link; https://docs.myeventon.com/documentations/how-to-activate-eventon/.
Next, you'll need to install and activate Event Photos Plus addon by following our general guide on how to install EventOn addons by clicking this link; /https://docs.myeventon.com/documentations/install-addons/
How to create your first Event Photos Plus Addon
On your WordPress admin dashboard, click on EventOn > Settings and click on the Photos tab as shown below: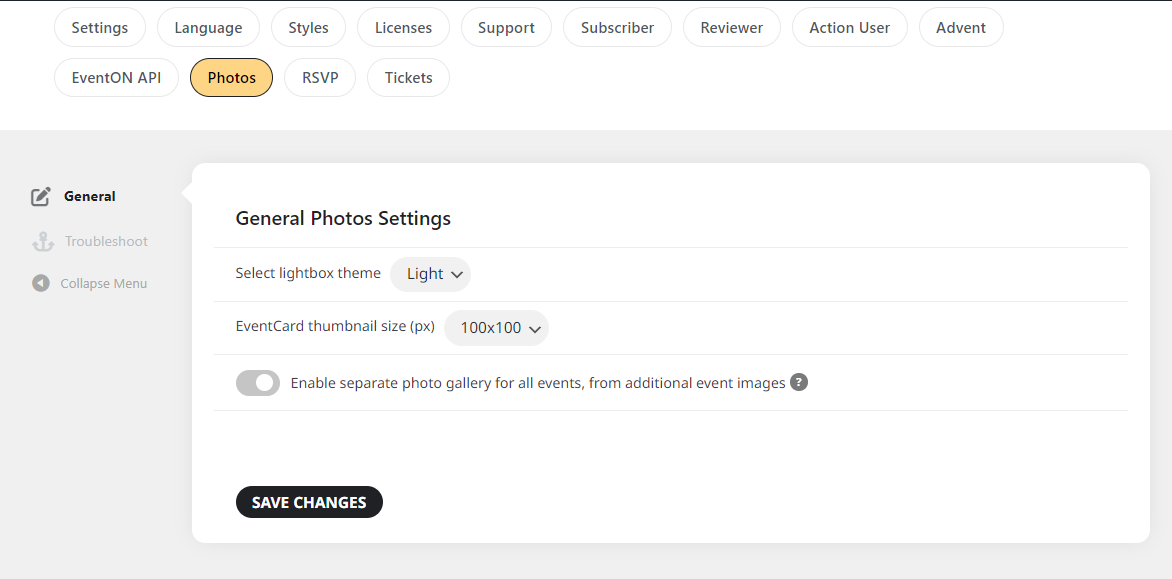 A list of General photos Settings will appear where you can configure various appearance settings for your gallery including:

Select the lightbox theme, there are two options;
Dark & Light
Click to select Eventcard thumbnail size.
Click to enable separate photo gallery for all events from event images. Note this will override individual event setting and create a separate photo gallery for all events using additional event images.
Basic Troubleshooting
Photos does not show in eventcard;




Go to myEventON Settings > EventCard > Re-arrange the order of eventCard event data boxes — make sure Event photos row is checked. And move this up or down and click "save changes"
How to add captions for images;




when you choose an image from Event Photos box in event edit page, in the light box for choose an image, make sure to fill in the 

Caption 

section for selected image. The caption for the image you enter is what is shown in frontend eventCard photos lightbox.
Did this article help you? If not, send us a ticket via helpdesk